New Directions in Contemporary Art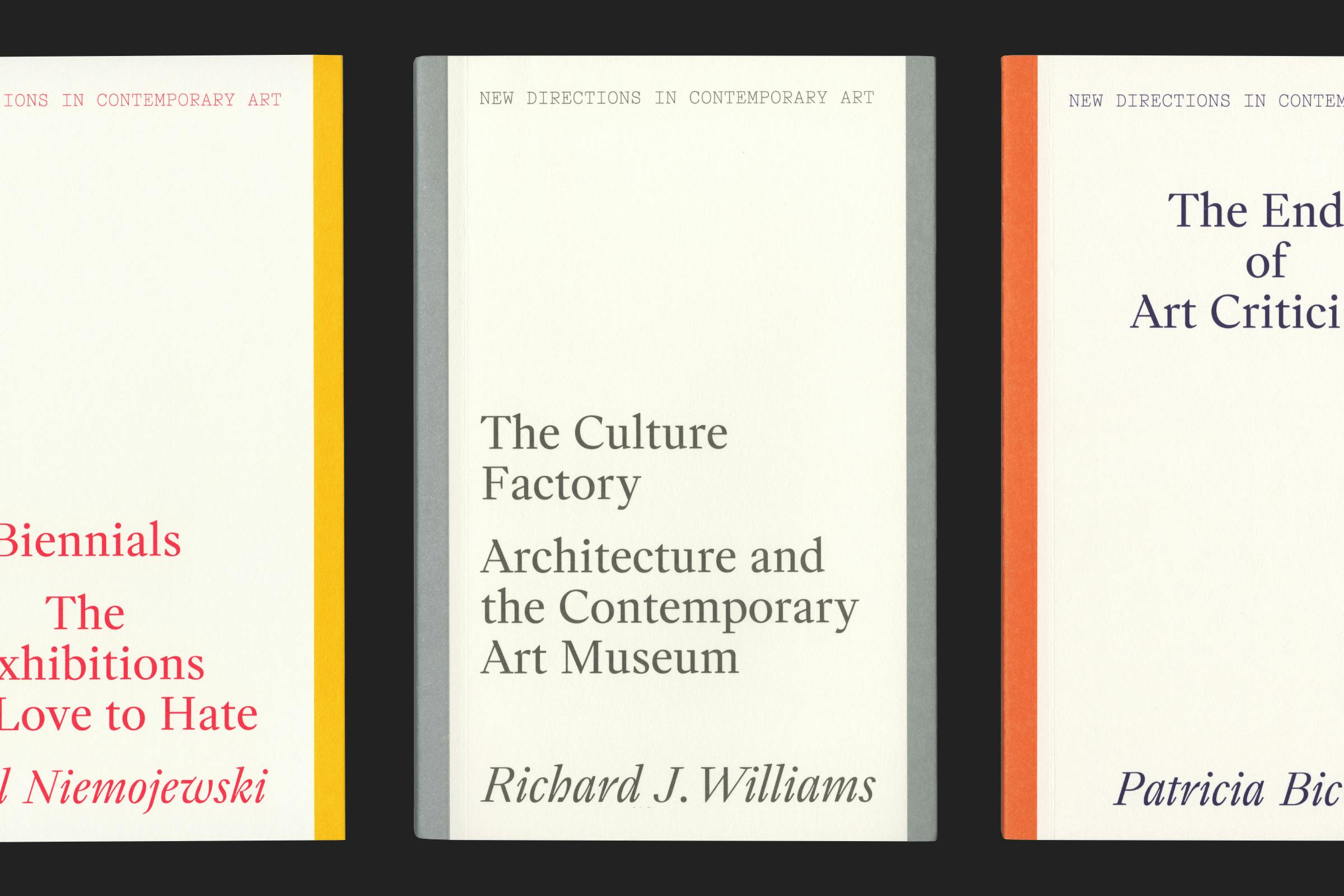 New Directions in Contemporary Art is a series of publications published by Lund Humphries. Featuring newly commissioned critical texts identifying key topics and trends in contemporary-art practice and discussing their impact in the wider art world and beyond in an accessible way.
The series design introduces a strong two-colour scheme to each entry. Bold edging on each side of the cover creates a recognisable bookshelf presence, with the colour blocks following the sheet around to flaps that reveal a full bleed contextual image on the inside cover.
Title text arrangements are playfully arranged in a 'free space' between the series title and author name, moving around on each publication to create visual differentiation.
WH Aldine, a typeface developed by Wolfe Hall, is used for the overall series identity. Mediaan by Dávid Molnár is used for title and body text. Both typefaces are modern interpretations of historic type styles. Pushing stylistic elements that give a contemporary feeling to the series in a legible and considered way.
---
Biennials: The Exhibitions We Love to Hate examines the proliferation of recurring large-scale international survey shows and their effects on shaping curating, the art market and globalisation as a whole.
---
The Ends of Art Criticism explores repeated claims of the impending demise of art criticism, but seeks to dispel theses myths through the belief that a lacking of a single dominant voice is a strength rather than a weakness, allowing previously marginalised voices with a global perspective to come to the fore.
---
The Culture Factory: Architecture and the Contemporary Art Museum explores the key battlegrounds in the design of the contemporary-art museum, describing the intersection of art, aesthetics and politics at the highest levels, and the commitment of states, cities and wealthy individuals to the display of art from Europe and the Americas to contemporary China. It describes museum building as the projection of political power, but also as a desire to acquire power.
---
Memory Art in the Contemporary World discusses the ever-expanding field of transnational memory art, which has emerged from a political need to come to terms with traumatic pasts, from the Holocaust to apartheid, colonialism, state terror and civil war. It focuses on the work of contemporary artists from beyond the Northern Transatlantic, including William Kentridge, Vivian Sundaram, Doris Salcedo, Nalini Malani and Guillermo Kuitca, all of whom reflect on historical situations with a transnational reach.
---